Last chance to stop the Trans-Pacific Partnership
The TPP could undo
all
environmental legislation
Call 202-224-3121 or go to www.house.gov/representatives/find/
to learn who your Congressional Representative is and to leave a message.
That phone number works for the Senate, as well.
Tell your friends in other states to call their Senators, too.
Tell them to oppose the TPP. Use the talking points on these web sites:
click here for links to TPP Info
Those links include articles, analyses and the TPP text itself.
City Council Resolution 694
requesting the NRC NOT relicense Indian Point
If your City Council member is not listed as a sponsor here
...
Go to the
NYC City Council web site
to find out who your City Council representative is and call them, asking them to sponsor Resolution 694.
Resolution #694 text
e-mail us
to help you set up a meeting with your City Council Member.
Con Ed Annual Report
.
Go to page 116 to see how much electricity Con Ed contracts from Indian Point. 3% during peak summer demand, 6% in the winter.
Explosion and other accidents at the Indian Point Nuclear Plant in 2015 & 2016
Close Indian Point
Operating without a license, over 100 health and safety exemptions.
Grow the renewable energy industry
Currently just under 53 megawatts in NYC. Could and should be thousands of MW.
Make NYC buildings more energy efficient, less wasteful
Buildings can be made to use 1/10 the energy.
No one of these things will make the other two happen automatically,
but working on all three together could make all three happen faster.
We discuss the issues,
plan on how to make them happen and
do what will make them happen.
A cleaner environment is a healthier environment.
NYC can be a world leader in solutions to climate chaos.
NYC can be 100% renewable energy by 2030, by speeding up the rate that NYC converts to renewables and efficiency.
Click to go to the
TOP
of the page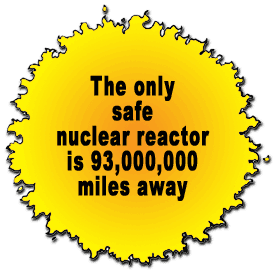 On Facebook: https://www.facebook.com/NYCSEC.
Recent actvities
NYC Safe Energy Coalition folks gave testimonies at many NYC City Council hearings at City Hall, such as on October 23, 2014 (reduce greenhouse gas emissions) and April 27 (NYC a TPP-free zone) & 29 (Lights Out bill), 2015.
Read some of the presentations and recommendations on the City Council web site.
Close Indian Point

Con Ed only contracts for 500 megawatts of power from Indian Point (according to their own Annual Report), which means it supplies between 3% and 7% of NYC & Westchester electricity. There is more excess power than that even at peak times.
At a public hearing June 2, 2012, the Nuclear Regulatory Commission admitted that I.P. has over 100 health and safety exemptions.
I.P. is on top of the Ramapo Seismic Zone, the most active seismic zone in the area, and is near two intersecting earthquake faults. The Core Damage Frequency of Indian Point is the highest of all U.S. nuclear reactors.
Nuclear power is an anti-democratic form of energy, shrouded in secrecy.
Nukes put radioactive, cancer-causing substances in the air and water every day that they operate. They're called "routine emissions."
As the plants age, accidents are increasing in number and severity.
The nuclear fuel cycle and plant operation is carbon and methane intensive.
Nuclear power is one of the clearest examples of environmental racism (aka environmental justice) in the U.S., due to mining and milling processes where Indigenous People live.

Grow the renewable energy industry

There are about 3,400 rooftop solar installations in NYC, totaling almost 53 megawatts (MW). There are about a million buildings, so there could be thousands of MW of solar.
NYC uses the most energy ("peak usage") when air conditioning use is highest, which is also when electricity rates are highest, and also when the most solar power is available. Solar electricity put into the grid lowers costs for everyone because expensive "peaking plants" do not have to go on.
NYC has a potential for wind power, but it must and can be done correctly, and not endanger wildlife.
The tidal power experiment between Queens and Roosevelt Island has been declared a success.
Ground source heat pumps (sometimes called geothermal energy) would work in some parts of NYC, but be a net energy loss in other parts of NYC.

Make NYC buildings more energy efficient

It's money in your pocket when the buildings you live in don't waste as much energy.
Buildings can be made to use 1/10 the energy. There are already several multi-family buildings in NYC that use "passive house" techniques to cut energy costs by as much as 90%.
The make-more-buy-more energy system is part of what got us into this climate chaos mess and energy efficiency changes that system by eliminating waste.
Money saved from energy efficiency tends to be spent locally.
There are bills going through NY City Council committees that will make NYC buildings more efficient.
As energy use declines, any single source supplies a greater percent of what is used.

For more information or to check sources, go to
NIRS,
New York Solar Energy Society,
New York solar research by Richard Perez,
SUNY solar research,
CUNY Solar in NYC,
Indian Point Safe Energy Coalition,
The Solar Foundation,
NRC cancels study on nuclear power and cancer,
shutdownindianpointnow.org,
sdipn.info,
Chernobyl-on-the-Hudson,
Biggest radioactive disaster in U.S. history
NY State Assembly: Indian Point Can be shut down.
Exposing myths about nuclear power and climate change
Why nuclear power is not a solution to climate change
Radiation and children
Daily radioactive releases into the air
Radiation basics
Subsidies for nuclear power
More information on Indian Point
NY state analysis of the "need" for Indian Point
Check youtube or a search engine for "passive house" or "Zero Net Energy" home or "solar cooker."

Explosion and other accidents at the Indian Point Nuclear Plant in 2015 and 2016

Energy Use:
Critical Mass Energy Project
Rocky Mountain Institute
National Lawyers Guild Environmental Law Project
Energy Saving Science
Andy Padian video on saving energy

Sustainable Rebuilding:
Storm Enormous
Building Science

Other Eco-Links:
Eco-Links via Eco-Logic

No Nukes Music

Stop Algonquin Pipeline Extension.

NYC Friends of Clearwater

Environment TV

Contact us:
by e-mail.

Energy Town Hall


Downloadable flyer

Far Rockaway Indian Point panel


May 18, 2016
Downloadable flyer

Listen to Eco-Logic on WBAI 99.5 FM or www.wbai.org, alternate Tuesdays at 8PM.

Endorsed by: Eco-Logic on WBAI-FM, NYC Friends of Clearwater, Occupy Wall St. Environmental Solidarity Working Group, Shut Down Indian Point Now, Neighborhood Energy Network, NY Climate Action Group, NYC Metro Raging Grannies, NYC SHAD Alliance

Contents designed by Mercy Van Vlack and Ken Gale; maintained and © Ken Gale 2016 except as otherwise noted.
SITE UPDATED October 31, 2016