HOSTS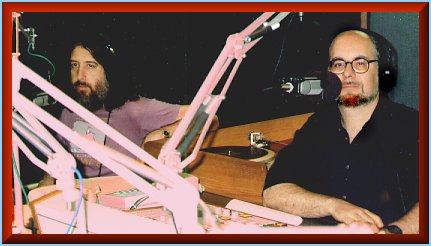 KEN AND ED IN THE STUDIO
photo by Michelle Wladich
Click on the names to go to individual home pages.
'Nuff Said!
was born on August 28th, 1993 at 5 am when Ed Menje and Ken Gale guest-hosted Jim Freund's WBAI-FM science fiction radio show Hour of the Wolf. The guest on that show was Jim Shooter. The program went so well that Ed and Ken followed up the interview on their own show, Monsters From The Id, and Shooter rejoined them to take further listener calls. The show immediately transformed from hard rock music to a comics talk show continuing from that first interview to the last show on June 4, 2002.

Initially airing bi-weekly on a late overnight shift, 'Nuff Said! found a stronger audience when they moved, first to Sundays at Midnight, and then to 10 pm EST Tuesdays.
producer, reporter, and engineer of 'Nuff Said! has a diverse history in both radio and comics. His professional comics art career began in 1977 when he was hired for The New York Tribe, a studio contracted to Marvel Comics. During that period he also contributed spot illustrations and logos to The Comic Times. In 1987, Ken Gale contacted Ed to work for Evolution Comics where he inked their Actionmaster series. Following that assignment he continued, focused on inking, to produce work which appeared in books from Marvel, DC, Malibu, Harris, Defiant and CFD as well as numerous small publishers.

During the decade between comics assignments Ed's interest in radio brought him to a variety of positions. Beginning in 1980, he co-wrote a New Wave countdown show called The Wavebreaker with Sue Real at WNYU-FM and did advertising sales and gag writing for Phil Barry Productions at WHBI-FM. In 1986 his long association with WBAI-FM began. He started at WBAI as co-host of Rude Awakening, a Punk Rock music show, which he continued as sole producer/DJ and renamed the show Monsters from the Id. He also produced and engineered for programs such as The Lotus Speaks (a new age/religion program) and Ghosts in the Machine (a women's music show) as well as various specials and fill-in shows. Ed continues to combine both interests as radio producer and Comics inker.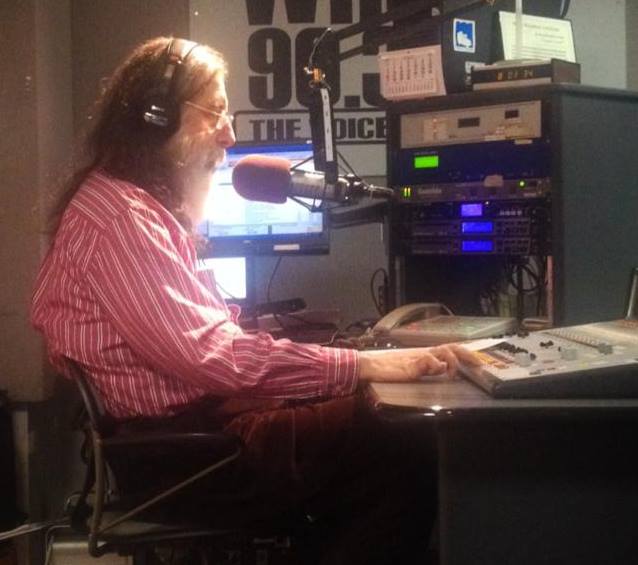 producer, co-host, interviewer and eventually engineer for 'Nuff Said!, is also a professional comics writer and editor. His first professional sale, an interview with Jerry Robinson, was published in DC Comics' Amazing World of DC Comics #4 in late 1974. During this period he started personal relationships with many comics professionals, which has been a great asset in obtaining the quality and diversity of guests for 'Nuff Said!. His first fiction appeared in Creepy #106 and he has also written for math textbooks (those questions at the end of the chapters, "Practice Your Skills"), numerous magazine, e-zine and newspaper articles, and a number of other comic book titles including The Good Guys #7-10 for Defiant and wrote the comic strip Miranda for Puritan magazine from 1996-2000. His first radio experience was via Ed Menje at the now-defunct WHBI-FM in NYC.
He conducted and moderated panels at the Big Apple Con in New York City. Those panels usually became episodes of 'Nuff Said! He's been a member of several apas and is still a member of Interlac. More recently, he's put out a dvd version of his radio show. Look for an environmental horror story he wrote in Psychosis #2 (2007). And he was on the Board of Directors of the Celtic League American Branch for quite a while.
This is the biography the Neighborhood Energy Network had on their web site:

Ken Gale is a freelance writer who has studied energy issues for over 30 years. In 1980 he started the newsletter New Rising Sun for the NYC SHAD (Sound and Hudson Against Atomic Development) Alliance. Due to his science (Florida Institute of Technology) and writing background, he found himself translating NRC and other government "literature" into English. When the famous accident at Chernobyl happened in 1986, he used that research to write "Chernobyl-on-the-Hudson". He has also written for math textbooks (those questions at the end of each chapter, "Practice Your Skills"), newspapers and magazines such as The Amsterdam News and Downtown and for comic strips and comic books, both mainstream and alternative. His radio career started in the early '80s for WHBI-FM. He joined Ed Menje on WBAI's overnight hard rock music show "Monsters from the Id" in 1991 which was turned into 'Nuff Said! in 1993, where he interviewed writers and artists in the comic book and comic strip fields. He currently is a host and producer for Eco-Logic, WBAI-FM's environmental show. He has been active in environmental issues for as long as he can remember and can be reached at kengale@comicbookradioshow.com.
For more information on Ken, read the interview Mark Mazz did with him in Dec. 2007
By the way, "Re-animator" fans, he also happens to be the nephew of actor David Gale.
joined 'Nuff Said! as co-host when Ed took an indefinite leave of absence for personal reasons. She has also been a professional comics writer, artist and creative director. Her first professional sales were writing and laying out stories for Richie Rich in 1980. Her inking has appeared in books from Malibu, Techno and DC. She also did cartoons for two anthology-style newspaper strips, Wit of the World and Wit of Women. And she has quite a few mini-comics out, mostly either x-rated, anthropomorphic or Legion of Super-Heroes satire or some combination of those three. The Celtic League American Branch has published her art in their Celtic Calendar in eight different years.


In the late '80s Ken and Mercy started the independent comics company, Evolution Comics, where Ken was editor and Mercy was creative director. Mercy also pencilled, lettered and inked Green Ghost and Lotus. Evolution Comics produced two titles, Dangerous Times and New Frontiers, adding those titles to the never-long-enough list of comics made for intelligent fans, a critical though not financial success. The team continued working together with Ken writing and Mercy drawing the xxx-rated Miranda strip for Puritan Magazine from 1997 to 2000.
Click on each name to go to their Home Page.

THIS SITE CREATED BY ED MENJE USING VISUAL PAGE AND PAINTSHOP PRO AND MAINTAINED BY KEN GALE
ED IS AVAILABLE FOR YOUR WEB DESIGN NEEDS

ALL CONTENTS © 2016 Ken Gale EXCEPT WHERE OTHERWISE NOTED

THANKS TO MIKE OF 2600 FOR DOMAIN HOSTING AND HELP

PAGE UPDATED August 26, 2016