DVD 'NUFF SAID!
A DVD version of 'Nuff Said! is now available!
Ken Gale's 'Nuff Said! dvd was in the May, 2006 Previews, the Diamond Distribution Catalog, pg 543 (our item number was MAY064499).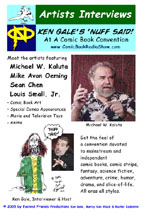 Check out this free sample from the dvd.

For more ordering options, see bottom of this page.

The cover, back cover and insert are on the Evolved Friends Productions site.

Stills from the video are also on the Evolved Friends Productions site.

Read Jen Contino's interview with me for Pulse on comicon.com.

Following is what Chuck Rozanski wrote in the Mile High Comics newsletter in early December, 2005. At present, he is the only one selling this. And of course, if this sells well enough, more volumes will be made.

"My final item for today is a plug for a fantastic new DVD created at my urging especially for dedicated comics fans. Ever since 1993, uber comics fan Ken Gale has been interviewing comics creators for his 'Nuff Said! radio show. In a step in a slightly different direction, Ken recently combined his talents with those of Mercy Van Vlack and Rachel Kadushin [and Bob Cabell, whom I do not recommend working with] to create a video version of his show. This particular DVD was created out of a trip made to the Big Apple comics convention, and features interviews with Michael Kaluta, Mike Avon Oeming, Sean Chen, and Louis Small, Jr. So far, so good.

"But what really caught my eye when I first saw footage from this DVD, was just how well it captured the excitement and energy of the convention. It's not just a series of boring interviews cobbled together, but rather a very fast-moving journey through the dealer's area of the convention, showing shots of not only the particular creators I already mentioned, but also quick interviews with some of the dealers attending the show.

"If you've never before been to a comics convention, or if you want to see a great view of what the Big Apple Convention looks like, this DVD is for you!

"To make a long story short, I was so impressed with how well this DVD presented the convention that I immediately asked whether we could obtain some copies for all of you. It took some doing to make this DVD available, as no one had yet put the process into motion to have mass copies of the DVD pressed.

"As things stand right now, I think that we can have them made in about ten days [by Dec. 16], so I think (with some luck...) that we can still get them to you in time for Christmas. It is imperative, however, that if you want a copy of this spiffy little DVD that you get your order in to us right away. Because we're the only comics dealer signed up to sell this item right now, the initial production run is going to be very limited. It is a great bargain, however, as DVD runs only about 12 minutes, so cost to you is only $9.95 plus shipping.

"What a deal! You can add this DVD into a regular comics order to gain free shipping (after meeting the appropriate order minimums), but please bear in mind that in that instance that we'll have to hold your entire order until the DVD's arrive. Order your copy today, before the initial pressing sells out. You don't want to miss viewing this great convention video!

Happy collecting!

Chuck Rozanski,
President - Mile High Comics, Inc."

A Podcast Review is in Secret Identity #8, about 8 1/2 minutes into the podcast.

Also available now from Midtown Comics, Jim Hanley's Universe, The Time Machine and Cosmic Comics in New York City as well as 30th Century Comics in London, England. At eastern conventions, look for it at Koop's Comics.

THIS SITE CREATED BY ED MENJE USING VISUAL PAGE AND PAINTSHOP PRO
HE'S AVAILABLE FOR YOUR WEB DESIGN NEEDS
MAINTAINED BY KEN GALE WITH THE HELP OF ERICH HEINEMANN
ALL CONTENTS © 2010 Ken Gale EXCEPT WHERE OTHERWISE NOTED

THANKS TO MIKE OF 2600 FOR DOMAIN HOSTING AND HELP

PAGE UPDATED 5/15/2006