CHERNOBYL-ON-THE-HUDSON
VIDEO PAGE
Indian Point: New York City's Nuclear Reactor
THERE ARE TWO NUCLEAR REACTORS ON LINE RIGHT NOW
THAT ARE THREE TIMES CLOSER TO NEW YORK CITY
THAN CHERNOBYL IS TO KIEV

Check out a print version
You can watch the videos from this page or click on the link to watch them on youtube. Apparently, the youtube counter doesn't include the number of times people have watched these videos from this page.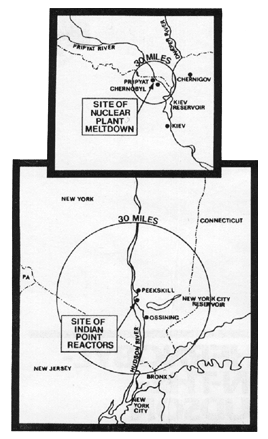 Part 1 of Ken talking about Indian Point in Sunnyside, Queens, NY June 23, 2011:



Part 2 of Ken talking about Indian Point in Sunnyside, Queens, NY June 23, 2011:



An August 6, 2012 YouTube video of the Occupy Wall St. rally on the 67th anniversary of the Hiroshima A-bombing. My talk connecting nuclear power and nuclear weapons begins at 04:42:



Ken talking about Indian Point in Brooklyn, Nov. 14, 2011:



Check out these photos of Jeanne Shaw's model of Indian Point from the 2012 Clearwater Hudson River Revival.

For more information on replacing Indian Point, go to NYCSEC.org

Other videos (and audios) with Ken are available here and here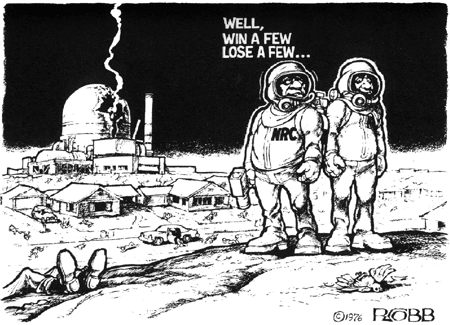 Ron Cobb from Cobb Again, Wild and Woolley Press
WHAT CAN I DO?
Write to the Governor:
Executive Chambers,
Albany, NY 12224
and to your local State Senators and Assembly Members.
This information is not available from Con Ed, Entergy, the New York Power Authority or the major news magazines.
Make copies of this information.
Please pass this information on to friends, relatives, co-workers, etc.
And until Indian Point is shut down, let's hope there is no accident that makes all the routine emissions of radioactive particles seem as acceptable as the industry tries to say they really are.
For more news reports on Indian Point, go to the Indian Point Safe Energy Coalition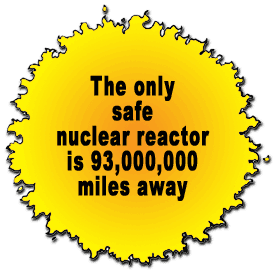 CHERNOBYL - ON - THE - HUDSON
Written and Researched by Ken Gale
Editing and additional material by Bill Weinberg
Graphics, design, proofed, and keyboarded by Mercy E. Van Vlack
Web design by Erich (Hire Me!) Heinemann
Special thanks to the NYC SHAD ALLIANCE, the New York Greens
and the New York City Friends of Clearwater.