ARTICLES
Curt Swan: My Favorite Cover Conference
by Ken Gale with Mercy Van Vlack
Mercy Van Vlack and I started Evolution Comics in the late '80s. We published eight issues, two of New Frontiers and six of Dangerous Times. Cover artists were Curt Swan, Adam Hughes, Mike Kaluta, Murphy Anderson, Marshall Rogers, George Perez, Walt Simonson and Javier Saltares. A wonderful list of artists, isn't it? Cover conferences varied from simply sending the artist the script or pencils of that issue to long detailed conversations. It was wonderful working with these artists and watching how they thought, but my favorite cover conference had to be with the late Curt Swan. He pencilled the first issue of our super-hero title, New Frontiers, featuring Green Ghost and Lotus.
When I called Curt to see if he could fit the cover of our first super-hero title into his schedule, he said yes and to tell him what to draw. I had several thoughts at once. One was "He can fit our cover into his schedule that easily?" There were a lot of companies that paid better than we did that should have been keeping him too busy for us, such as DC & Marvel (there was a time when Curt had a standing offer from Marvel and of course, he was the regular artist on Superman from the '50s to the '80s). As happy as I was that we could get a Curt Swan cover, part of me was angry at DC & Marvel for not giving him enough work. At the same time, I also thought "Mercy and I combined have less years experience in comics than Curt Swan has (he started in 1945). I'm not going to just tell him what to draw; I want his input. I want Evolution Comics to have the benefit of his experience!" He seemed quite pleased and flattered that we wanted to set up a cover conference. We arranged to meet him in an Italian restaurant he chose near the Westport, CT train station, not too far from his studio and home. He was waiting for us when we got there.
My role with Evolution Comics was as editor, working with the writers. I also was the person who usually dealt with distributors and retailers. Mercy's role was as Creative Director, hiring and working with the artists, designing the look of the line, taking care of the production and communicating with the printer (with their own jargon). Our strengths and weaknesses complimented each other quite well.
A bit of a digression first. The week before we met with Curt, we interviewed a young artist for one of our titles. He was talented, intelligent and understood exactly the demands of the feature that we were interviewing him for. He also kept addressing all his artistic questions to me, not Mercy, even after I'd look to Mercy for the answer with a little extra body language to make the point that she made those decisions. Still, he acted like she was just hanging out, rather than a full partner and the Creative Director. Finally, Mercy had enough and told him that she was the Art Director and she didn't like the way he was treating her. His reaction was to tell her that comics was a male-dominated industry and she'd better get used to it. She told him that she was the boss at Evolution Comics so he had better get used to it. Needless to say, we didn't hire him.
Now, if Curt Swan had acted like that, we probably would have dealt with it differently. For one thing, he was in his late 60s and grew up in a different era and for another he was the great Curt Swan. He started out by asking me what I wanted on the cover. I told him I wanted both heroes and the villain and wanted at least one of the heroes to be using their powers. He nodded sagely then asked Mercy what she wanted for the general look of the line, knowing it was the first issue of our super-hero title. All the rest of his questions were artistic ones and were addressed to Mercy. He treated her respectfully, like the boss and Creative Director she is. Quite unlike the artist of the week before who was less than half Curt's age. Curt had no trouble working for a woman. Still another reason to admire the man, but the best was yet to come.
After talking with us about the characters and the storyline of that issue, he opened his sketchbook. He sketched a double profile shot of Green Ghost facing down Lady Lucifer as Lady Lu clawed Green Ghost's costume, exposing his chest and making some painful-looking scratches. In the background was Lotus, using her power of traveling through dimensional doorways, entering the scene to help GG out. Curt looked at the drawing thoughtfully. "We need some motion. You say the story takes place at a bird show. Okay, we'll have some birds flying around, their cages knocked over during the fight." The way he sketched that, it added a circular motion to the action on the cover.
He sat back, looked at the sketch, frowned and said, "That's boring." Neither Mercy nor I said a word. Then he added an arc of motion lines to Lady Lucifer's arm and smiled. "That's better." Mercy and I looked at one another. It seemed like such a small thing had satisfied him.
But when we got the pencils, the scene had changed. He had rotated the whole scene 45 degrees. It was definitely a more exciting cover than the original sketch. I suspect that when he added those motion lines, he had rotated the cover in his mind's eye and that's why he was satisfied. Mercy and I had gotten to watch one of the masters of comic art think! A privilege we'll never forget! Having that cover conference was a boon in many ways. Not only did we get a better cover, but we got to watch the great Curt Swan create. It was a wonderful learning experience for us. Can you see why it was our favorite cover conference?
Mercy inked the cover, so the inker of the cover and inside story would be the same. I'll let her tell this part of the story.
I was petrified. Me? Inking Curt Swan? I kept reading thru issues of the Legion and World's Finest and looking at how other folks inked him, but I couldn't bring myself to ink it. It took a helluva lot of chutzpah to dare to ink the great Curt Swan, but that's what inkers have to have to get the job done. You are gonna be the artist that makes the final presentation, the art the public sees; they seldom get to see the pencils. A lot of pencillers never get over how some inker ruined their best work, or how all their work was destroyed by bad inking! The inks are all the printer's camera sees to make the plates for the final art that ends up printed in comic books. I had a lot of responsibility to do the best job for the team.
I finally got it together and transferred the pencils via light box to comic book vellum board and inked with a brush and rapidograph to finish the art for reproduction. I did a color guide and the seps [color separations] were done by Murphy Anderson's studio, who put in the special effects of light to dark. Voila! A comic book cover!
Later, Ken asked Curt what he thought of my inking, "She has a delicate touch," he replied. That's 'cause I was afraid to touch it!
We'll finish this article with a scan of the cover. If you want to see it at higher resolution or would like to check out the entire issue, come by our table at the next convention we go to. Or order it by mail. $6.00 for the first printing, $3.00 for the second printing. Mercy Van Vlack, P.O. Box 1028, Gracie Station, New York, NY 10028. The second issue (Adam Hughes cover) is #3.50 & 3.00. All postpaid. Both stories are written by Tom and Mary Bierbaum and neither story is continued. For more about the company and to order the whole set of Evolution Comics, check out the Evolution Comics page.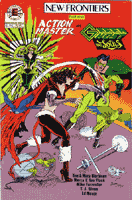 Comments? E-Mail me
PREVIOUS ARTICLE | NEXT ARTICLE | ARTICLES LIST | HOME

THIS SITE CREATED BY ED MENJE USING VISUAL PAGE AND PAINTSHOP PRO
HE'S AVAILABLE FOR YOUR WEB DESIGN NEEDS
SITE MAINTAINED BY KEN GALE WITH THE HELP OF ERICH HEINEMANN
ALL CONTENTS © 2004 Ken Gale EXCEPT WHERE OTHERWISE NOTED

THANKS TO MIKE OF 2600 FOR DOMAIN HOSTING AND HELP

PAGE UPDATED 2/25/2004