ECO-LOGIC
with Ken Gale, Donna Stein and the Eco-Logic Collective.
We won! WBAI-FM is back under local control!
The threat to the Pacifica Foundation bylaws was also stopped.
Eco-Logic was EVERY WEEK Tuesdays Starting 11 AM beginning March 17, 2020.
Canceled March 24, 2020 by program director Linda Perry and general manager Berthold Reimers.
We ARE continuing as a podcast!

When the air or water are clean, thank an environmentalist. If not, become one.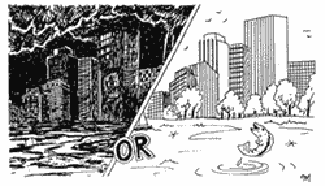 art by Mercy Van Vlack

Eco-Logic has a Facebook page.

To be notified by e-mail when we do a show, click here.
For past shows list and links to hear recent shows, click here.
For permanently archived shows, click here.
For the environmental links page with more information of my news and announcements, click here.
If the date below is highlighted, click on it for an audio promo of the show.

Saving energy: Listen with your computer or smartphone
How New York state got 5,000 Megawatts of Solar Power

Upcoming Shows
Date
Guest(s)
Organization(s)
March 24, 2020
11AM
coronavirus
podcast only
Abby Hafer
Curry College
Professional Debunker
March 31, 2020
11AM
canceled
April 7, 2020
11AM
canceled
April 14, 2020
11AM
canceled
April 21, 2020
11AM
canceled
April 28, 2020
11AM
canceled
Other Shows and Specials
Date
Guest(s)
Organization(s)
January 25, 2010
UN-intelligent Design

Dr. Abigail Hafer
Curry College
Dr. Hafer got her doctorate in Zoology at Oxford and teaches human anatomy and physiology at Curry College in New England. I could say I'm doing this show in honor of Darwin's birthday, which is on February 12, but it's actually because I attended her talk at Arisia and really enjoyed it. She presents the subject with a wonderful sense of humor while still being thought-provoking. She uses examples such as the human eye, the throat, reproduction (men AND women), teeth, pre-natal gill slits and vestigial anatomy to point out that humans are not that intelligently designed and how evolution explains these things. And how birds, whales and squid are "designed" better.
Moorish Orthodox Radio Crusade
Date
Guest(s)
Organization(s)
March 31, 2010
Archived on WBAI web site
Lillian Pollak
author, "The Sweetest Dream"
April 14, 2010
Archived on WBAI web site
Tom Keough
artist, activist
April 21, 2010
Archived on WBAI web site
Judy Harrow
author, High Priestess
Dec. 1, 2010
Archived on WBAI web site
Memorial to Alexei Kondratiev
author, "The Apple Branch" and "Vidorix the Druid"
Dec. 8, 2010
Archived on WBAI web site
Rebecca Migdal, Andy Laties
World War 3 Illustrated
Dec. 15, 2010
Archived on WBAI web site
no guest
the Obama Administration
Dec. 22, 2010
Archived on WBAI web site
no guest
the Obama Administration
Ken Gale guest-hosted Moorish Orthodox Radio Crusade many times.
On March 31st, my guest was Lillian Pollak, 95, who is a member of the NYC Metro Raging Grannies and author of "The Sweetest Dream," a novel about her political activism in the '20s and '30s, with particular attention on some of the people she knew such as dance choreographer Martha Graham, writer and editor Delmore Schwartz and especially Leon Trotsky, whom she visited in Mexico. We discussed the Great Depression, the Spanish Civil War, the early union movement, Josef Stalin, the difference between various Communist and Socialist organizations in the '20s & '30s and the role of the arts in political and social activism.
April 14. Progressives don't talk about our history very much and seem doomed to repeat it. I spoke about progressive political politics history with Tom Keough, paying particular attention to the Guardian newspaper from the '70s & '80s and government infiltration of progressive groups.
On April 21 my guest was former WBAI producer Judy Harrow. In the 1980s, she was co-producer of "Light Show" with Fred Kuhn and covered progressive politics from a multi-religious angle. She has been the High Priestess of Proteus coven since 1980 and has three books published. We talked about her books, Gerald Gardner, other ex-WBAI producers such as Margot Adler and Lex Hickson, and the difference between Wicca and Paganism.
December 1st I did a memorial to Alexei Kondratiev, reviewed the Brain exhibit at the Museum of Natural History & explained what goes on in the brain during grief or denial and spoke about some environmental concerns.
On December 8th, I interviewed Rebecca Migdal and Andy Laties about the 30th anniversary of World War 3 Illustrated. Rebecca is one of the writer/artist/editors and Andy is a member of a band who was promoting the anniversary. We spoke of the magazine's role in portraying American history using subjects that show issues that affect the lives of "ordinary" people throughout the world.
On December 15th & 22nd, I took a lot of listener phone calls about the Obama Administration. Can it be improved? If so, how? Is there any hope for the future?
Eco-Logic began June 18, 2002. It had been a while since WBAI-FM (99.5 NYC) had a regularly-scheduled environmentally-oriented show.
Eco-Logic is a forum for the expression of ecological thought, analysis and activist endeavors featuring
the Restoration, Conservation and Appreciation of the Natural World,
Environmental Justice,
Climate Change,
Community Ecology,
Wildlife Protection,
Bioregionalism,
Clean Air,
Clean Water,
Healthy Food,
Green Buildings,
Energy Issues,
Links with Other Issues and
Activism.
This page will have announcements regarding guests and subject matters of upcoming shows. It will always have information on the shows I do and usually on the shows David does whenever I get a heads up on them (only the first seven shows were done by both of us). Keep checking this space.
Like all WBAI shows, you can listen to this live over the internet. Each episode will be archived on the WBAI web site for three months. There are links on the home page and just below the list of upcoming shows.
WBAI Program Director Bernard White assures me that the decision to do this show, with me as a host, has nothing to do with the decision to take 'Nuff Said! off the air. Not being a big believer in coincidences, I couldn't help but make the connection. But that's just me. Due to that timing, I considered not doing Eco-Logic, but every friend I have at WBAI urged me to do the show. They were right.
Special Thanks to Mercy Van Vlack for coming up with the name of the show.
-- Ken Gale, NYC, June, 2002
Three episodes of Eco-Logic - on global warming, on water and natural gas drilling and on bottled water and the plastic it comes in - are permanently archived on this web site. Another, on conferences and symposiums, has been transcribed. Check them out on the Eco-Logic Audio Archives page.
Most of the episodes of Eco-Logic from the past 90 days are archived on the WBAI web site. Eco Anchor NYC has archives of most of the episodes from 2015. Check the list on the Past Guests page for specific shows that would interest you then scroll to that date and listen. This even works with old computers and dial-up modems (I know this from my own computer).

THIS PAGE CREATED BY KEN GALE FROM THE TEMPLATE DESIGNED BY ED MENJE USING VISUAL PAGE AND PAINTSHOP PRO, WITH THE AID, TEACHING AND CONSULTATION OF ERICH HEINEMANN. ED AND ERICH ARE AVAILABLE FOR YOUR WEB DESIGN NEEDS.
SITE MAINTAINED BY KEN GALE WITH THE HELP OF ERICH HEINEMANN.
ALL CONTENTS © 2020 Ken Gale EXCEPT WHERE OTHERWISE NOTED

THANKS TO MIKE OF 2600 FOR DOMAIN HOSTING AND HELP

PAGE UPDATED March 30, 2020