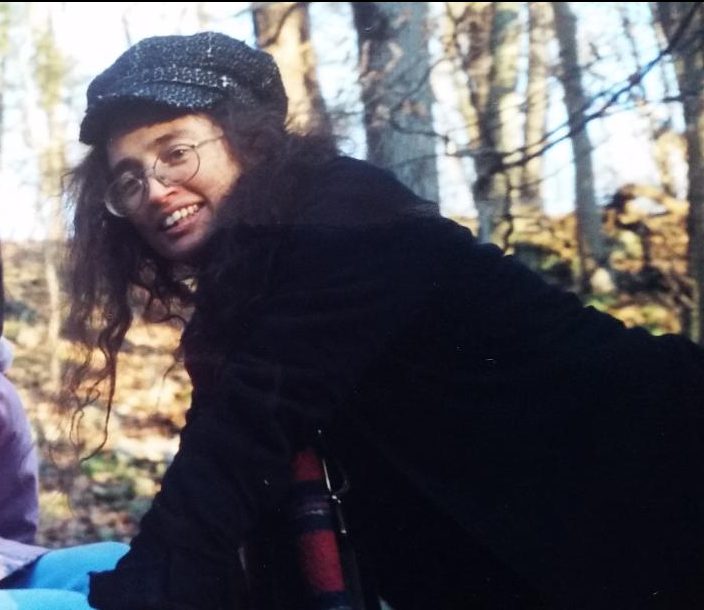 Therese Chorun has passed away after a very long and very painful debilitating illness.  Most people only knew her as Therese.  She was 55.
I miss her intelligence, her attention to detail, her sensitivity to others, her compassion, her environmental activism, her sense of humor and her twinkling smile.
I first knew her from various environmental groups' meetings and events, though she was active on other issues such as peace, labor and civil rights.  It was through her that I was introduced to SEAC, the Student Environmental Action Coalition, when she'd just gotten out of college.  I would later speak at one of their conferences and it is one of my favorite-ever speaking gigs.
She was one of those wonderful people who cheerfully volunteers for many tasks, but also gets them done.  She was full of energy and someone you could count on.  She didn't speak out a lot at meetings, but when she did it was always worthwhile.  You know how precious a person that is!  I knew that after just about any one-on-one conversation with her, some young man would come up to me later and ask, "Who was THAT!?"  I thought she must've been someone who was always being hit on by guys, but she said that was never true. "Where were all these guys who were asking you about me?"  "At nearly every event or meeting where we were both at."  She just smiled and shook her head.
I got to get to know her much better at WBAI-FM when I was a Tally Room Co-ordinator and she input the data of listener pledges.  She was a joy to work with.  There were problems that would crop up, as in any office job, and she was really good at solving them, being more interested in getting the work done right than in finding out who might have caused a problem that led to more work.  If I had a question about something, she could usually supply the answer in minutes, without stress or drama.  I remember one little error someone made that would have cost the station thousands of dollars and hundreds of people might have been very irate, but her intelligence and attention to detail and pro-active nature caught the error early on and we fixed it together.  "How did you know?" I asked her and she just matter-of-factly said, "I just did." She never claimed credit for having done something like that so I started boasting about her to everyone, including her supervisor.  I feel that jobs well done should be praised, so I praised her.
She would go to a lot of events and meetings that I didn't go to and if they were environmental events, she'd hand out Eco-Logic flyers. She handed out hundreds of them.  Hundreds.  There's a good chance that there are people listening to Eco-Logic now who learned about the show from Therese.
Mercy's last memory of Therese is on the roof of the building where she was living at the end.  "We were outside in the air looking around at the City, not cooped up in the apartment.  She really enjoyed being up there, outside."
I found myself distracted by many memories of her as I tried to get ready for a radio show and a speaking gig at NYC Clearwater, both very soon after her passing.  I knew it's the last thing she would have wanted and I could hear her in my mind's ear admonishing me, "Don't you use me as an excuse for not getting ready for your show!"
When she fell to the illness which eventually killed her, she asked me not to tell anyone.  I respected that, which was difficult because people missed her and asked me about her.  She didn't want me to see her at the end and it would have been difficult to see her in such pain.  Her death was merciful for her, if not for those of us who loved her.  I can easily summon up a picture of Therese in my mind's eye, smiling, her eyes twinkling, and that's how I'll remember her best.
Thank you.
Ken Gale, NYC, September, 2017
Her brother Alan has a wonderful page dedicated to her, with many photos: click here.
I invite your comments, E-mail me