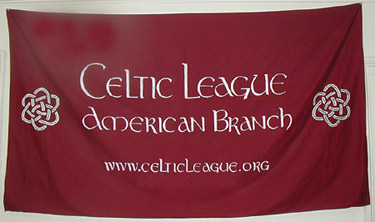 The Celtic League, American Branch (CLAB) was founded in New York City in 1974. Our aim is to provide a link among all Americans of Celtic descent or sympathies who seek a deeper appreciation of their glorious legacy, and the need to strengthen the cultural and national identities of the Celtic peoples. In addition, CLAB often serves as a "common meeting ground" for organizations and individuals within our diverse community.
The Celtic League, American Branch is a not-for-profit organization, and is completely non-discriminatory and non-sectarian.
CLAB sponsors events throughout the year, including membership meetings, an annual Celtic New Year Party (October 31st) and formerly sponsored a Pan-Celtic Conference (usually in the spring).
The American Branch prints its own quarterly newsletter, Six Nations, One Soul, which provides news of Branch activities and events within the Celtic communities in the United States, publishes letters from members, and reviews of books and recordings of Celtic interest. This newsletter is included in membership. We also distribute CARN, the Celtic League International's quarterly newsletter, to all CLAB members.
As part of its educational service, Celtic League, American Branch promotes observance of the four quarterly Celtic feasts — Samhain (Nov. 1st); Imbolc (Feb. 1st); Beltaine (May 1st) and Lunasa (Aug. 1st). These are the pivotal dates in the traditional Celtic year which begins on November 1st and ends on October 31.
Every fall, Celtic League, American Branch hosts a Celtic New Year's Eve Celebration on October 31st. Each spring Celtic League American Branch had held a Pan-Celtic Conference which featured films, lectures, readings, workshops and a concert. The six Celtic nations are represented at this Conference. Check this web site often for more information on our events.
Annually, The Celtic League American Branch published an illustrated Celtic Calendar which represents the Celtic Year. This Calendar contained over one thousand dates related to people and events from the histories of the six Celtic nations of Ireland, Scotland, Wales, Brittany, Cornwall, and the Isle of Mann, as well as proverbs in all six Celtic languages and information on Celtic mythology.
CLAB also has products for sale to help pay for our other activities and to promote the ideals and aims of the Celtic League. See our merchandise page. Most of what we sell is exclusive to CLAB.
Be a part of all this. Join the Celtic League American Branch today. Contribute articles to our publications and to our website.
YEARLY DUES:
Individual:
$30
(includes subscriptions to CARN and Six Nations, One Soul)
Couple:
$35
(includes subscriptions to CARN and Six Nations, One Soul)
Family:
$40
(same inclusions as above)
Contributing:
$50
(includes Keltoi and ½ price admission to CLAB events)
Sustaining:
$100
(includes T-shirt, Keltoi and free admission to CLAB events)

If you wish to join please mail a check/postal money order to:
Celtic League American Branch
P.O. Box 20153
Dag Hammarskjold Center
New York, NY 10017