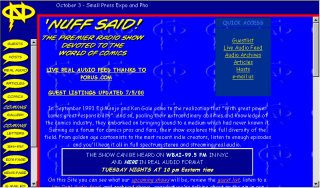 'Nuff Said! has been my main project to this point.
being a website devoted to keeping listeners of my radio show
current with our programming schedule, linking to the station's
live Real Audio feed, and eventually a place for comics fans to
read online comics.

---

My first use of computer design was this logo for Jim Freund's
Hour of the Wolf website. From there I began creating all of the graphics
for my own site (above)

---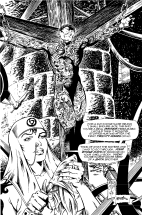 I have also done some comics inking
you can view in more detail some of my work in PDF format
by clicking on the image above.

---
| Links | 'Nuff Said! Radio | Design Philosophy | Graphics | Illustration | e-mail |

Page/graphics designed and maintained by Ed Menje
utilizing PaintShop Pro, Photoshop and Visual Page
© 2000 Ed Menje