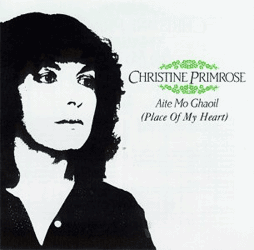 Since the release of her first recording, Àite mo Ghaoil ("Place of my Heart") in 1982, Christine Primrose has played a pivotal role in a revival of interest in Gaelic song that has swept far beyond Scotland. Born and raised in Carloway, a village on the west side of the Isle of Lewis in the Outer Hebrides, she grew up steeped in Gaelic tradition.
It wasn't until she had left home, however, that she began to sing to an audience had no Gaelic at all. At that time traditional Gaelic singing was not widely known or appreciated. As Robin Morton, founder of Temple Records, wrote on the re-release of Àite mo Ghaoil in 1993: "The few recordings of Gaelic song that were available were either of the Scottish concert party type, or pseudo-classical in approach. Neither did any favours to the great and proud musical tradition."
Àite mo Ghaoil broke many barriers, introducing Gaelic song to a wider English-speaking audience in the Lowlands and beyond Scotland's borders. "In retrospect, this is an album that broke the mould," Morton wrote. Primrose blazed a path that many singers have followed, from Arthur Cormack to Karen Matheson of Capercaillie and Cape Breton's Mary Jane Lamond.
Thanks in large part to the lasting commercial popularity of both "Celtic" and "World" music, these singers have gained an audience for Scottish Gaelic song far larger than could have been imagined even 20 years ago. Scottish Gaelic and Irish in particular have joined languages from Asia, Africa, Europe and the Americas in the World music mix. The songs have traveled far from home. As Primrose says, "the music speaks for itself." And, of course, Gaelic songs often lead listeners to study and learn the language.
Primrose's latest album, "Gun Sireadh, Gun Iarraidh: Without Seeking, Without Asking," was released by Temple Records in 2001. CLAB Manx Chair Liam Ó Caiside interviewed Primrose during a recent visit to the Washington, D.C., area.
Ó Caiside:
Christine, how did you get your start as a singer, and what attracted you to Gaelic song?


Primrose:
Well, I can't remember being consciously attracted to it. It was just something that was always with me. It was part of my growing up. It was always just there.


Ó Caiside:
In your family or in the community?


Primrose:
Everywhere. I mean, I didn't think I was doing anything special, to be honest. Singing was an ordinary thing to do. If you could sing at all, you would be called upon to give a song—"seinn òran, siuthad." I remember singing from a very, very early age. Being asked to sing, to give a song in the house.


Ó Caiside:
Who would ask you?


Primrose:
Relatives, especially relatives who would be home for holiday. My father's uncle was always making me sing because he was a singer himself. He'd call me into his shed, saying, "Dè na h-òrain a-nis a tha thu 'g ionnsachadh?" Which songs are you learning now then?

I remember my own uncle, my father's brother, coming home from Canada every summer. And my granny's sister had moved to Aberdeen when she was very young and she had seven children, and they all married Aberdonians, and they had loads and loads of kids. Everyone had at least four children. So there would always be somebody from Aberdeen over during the summer, and I'd be asked to sing for them.


Ó Caiside:
What kind of role did song play in the community when you were growing up in Carloway?


Primrose:
Well, to be honest, I never thought about it. It was just part of growing up in the culture. It wasn't an obvious thing—"Oh there's a singer, she sings"—you just knew people would sing. It was a big part of their social life, singing, because there were no instruments. That was the instrument, the voice.


Ó Caiside:
Do you see that changing at all today?


Primrose:
Oh I think everything's changing, definitely. I certainly see it when I'm at home, the whole structure of things has changed, but then again where hasn't it? I think every place has been affected.


Ó Caiside:
Were there any singers in particular in your neighborhood or your family when you were growing up who impressed you? You mentioned your uncle…


Primrose:
My father's uncle. My auntie, my father's sister, she would always be singing at these parties as well. She died when she was very young. My father's side of the family weren't great singers, but my mother's side apparently were, they would always say to me "Fhuair thu do ghuth bho thaobh do mhàthair"—"It's your mother's side you got your voice from."


Ó Caiside:
What kinds of songs or types of songs are you most attracted to?


Primrose:
Very melodic ones. I'm afraid that the melody comes before the words for me. You can have the best poetry in the world, but if it hasn't got a good tune, I'm not attracted to it. But most of the time, if it's a really lovely melody, if it's a well-written piece of poetry, it's a good song.


Ó Caiside:
What about faster songs, like puirt-à-beul [mouth music]?


Primrose:
The fast ones are OK, but it's a different sort of discipline singing them. I like the slow ones, slow gorgeous tunes where you go all over the place. I have to be satisfied that it's worth singing.


Ó Caiside:
Do you pick songs, or do the songs pick you?


Primrose:
I don't know. I think I pick them. Maybe they pick me. Who knows?


Ó Caiside:
You've competed in several Mòds in Scotland. When did you begin?


Primrose:
The first time was when I was in primary two. I was six years old. It was in Stornoway. I remember standing on the stage and looking at this stained glass window. I still remember it, it was a huge, big thing to do. And I remember that I placed third!

After that I started singing on a regular basis at the Mòds and started winning most of the competitions I went in for, and that carried on until I left school.

I remember my first radio broadcast, vaguely, when I was only four. That was for the BBC, for Godfrey Winn. I still remember him, because he had come to do a program on the islands and the weaving industry, and my father was regarded as a very good weaver. So he was pointed to my father's house, and they must have said to him, "get his daughter to sing a song" or something like that. And I did. He described me as "a little brown berry dressed in a neat red blazer." That was probably the only blazer I ever had.


Ó Caiside:
Did you have any English at that time?


Primrose:
No I wouldn't have. I remember my first word in English. It was "teapot." When these cousins would come home with their children, they didn't have any Gaelic, and you know how kids are desperate to interact ... I'd be talking away to them in Gaelic and I'd throw the word "teapot" in. Just to be proud of the fact that I could speak English too!


Ó Caiside:
When did you enter the National Mòd?


Primrose:
Oh that was a long time ago. I can't remember that! I remember now, that when I left school, I didn't want anything to do with Gaelic song. Music was a big part of my life, but I didn't want to sing in Gaelic anymore. I wanted other things in my life, and I wanted to hear all other kinds of music. I was experiencing the mainland and what Glasgow had to offer me, as far as music went, and I loved that scene.

I came back to Gaelic singing after I got married. I was a few years without competing, I didn't want to compete anymore. But I got back into it. Then I went to the Mòd in Dundee, and went in for the traditional medal. That's when I won that competition.


Ó Caiside:
What was the Mòd experience like for you?


Primrose:
Horrible, horrible. I hated competition. When you're young… when you're small you just do it because it's expected. But I just don't like competing. I think it's a very unnatural thing to do. You're talking about a culture that should never be put on a stage like that and judged.


Ó Caiside:
Do you think it's a good thing, then, the Mòd?


Primrose:
It's very easy to dismiss the Mòd and put it down but I don't do that. I think it's a very worthwhile event to have because it brings a lot of people into the Gaelic world and encourages people to learn songs. The nature of the beast is that a lot of people like competition—they wouldn't be singing these songs unless there was a competition. I think the Mòd has got its place, definitely. What I would like to see more of are festivals without competition in them, like the fèisean.


Ó Caiside:
How did you become a recording artist?


Primrose:
I got a phone call from Robin Morton (of Temple Records) asking if I was interested in recording. I said I was and he was very nice and came to see me, and we decided that I would do it. And that was great. I'm very grateful to Robin Morton for that. And I'm glad that it was Robin who came to me. Robin cares about what I do though he doesn't have Gaelic. But I don't think you have to have Gaelic to understand what I do. It's not just the language we're talking about. The music speaks for itself.


Ó Caiside:
You're teaching Gaelic song now. How has that experience been for you?


Primrose:
I'm really enjoying it. It's a thing that I never meant to go into. I came upon it by accident, serendipity. I just never saw myself as doing that. To start, not many people were doing that kind of thing, holding Gaelic song workshops. Once I started doing it, from the very first time, I was amazed when I realized people enjoyed this. I've learned through the whole thing and I'm still learning.


Ó Caiside:
Are most of the students coming from outside Gaelic-speaking culture?


Primrose:
Well, not at Sabhal Mòr Ostaig [the Gaelic college on the Isle of Skye where Primrose works]. There's a consistency with those students, as they are at the college full time and I work with them on a term-to-term basis, each day. That is easier for me than an afternoon workshop, where people are at different levels of learning the language. I'm always concerned that the students might not get as much out of it as they should. A week's course is better for me. And I find it's more beneficial for them. And teaching works for me too, because I have to learn new songs, and I have to keep on top of these songs.


Ó Caiside:
So that gives you inspiration.


Primrose:
It does. It has to be a two-way thing for yourself to be kept fresh and feel enthusiastic about what you do. It's a challenge sometimes. But I'm still very enthusiastic about it.



This is an excerpt from a longer interview published in An Comunn Gaidhealach America's journal in 2001.